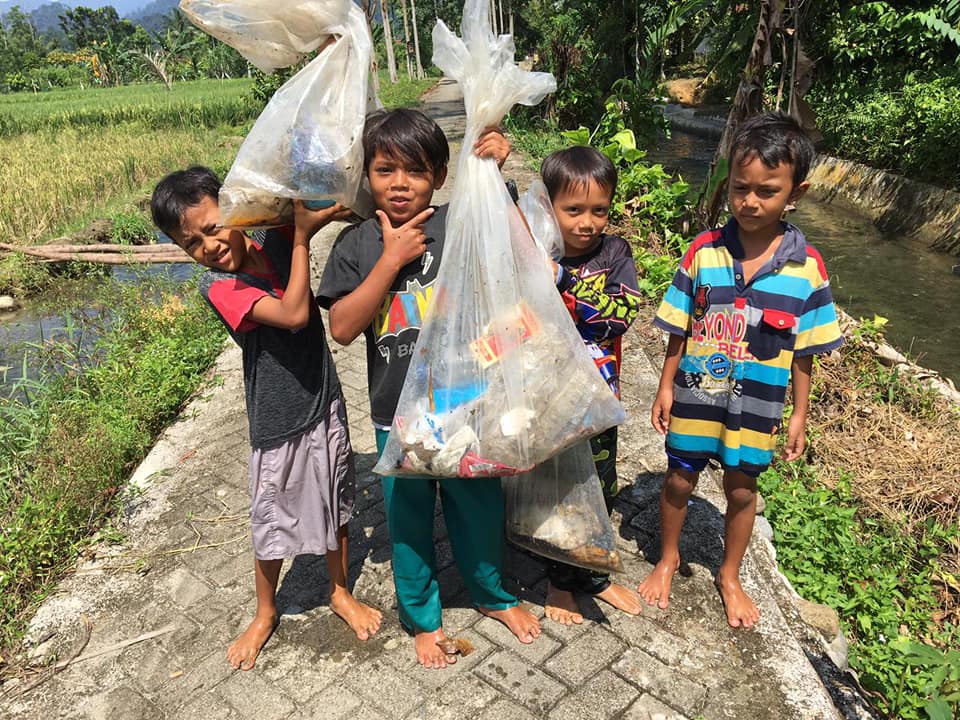 "I have a dream… I want my younger brother, my nieces and nephews, and maybe one day my children, to grow up and have a future in our village. I want them to play and swim in our river. I want them to enjoy the magnificent jungle, the nature and wildlife that are only steps away." (Santa, Porli village, Sumatra)
Sumatra's plastic waste crisis is threatening the livelihoods of local communities. Santa grew up in a small indigenous community of around 1,200 people in a remote village in North Sumatra. Nowadays, almost all of the land and its rivers are covered with heaps of plastic waste. That's on top of other issues, such as the expansion of palm oil plantations that are now occupying up to 75% of the land in this area.
Santa left his village many years ago to join a local conservation project at Batu Kapal Conservation. This experience made him think about all the things he could do for his own village, and he decided to return a couple of years ago to make a difference for his local community.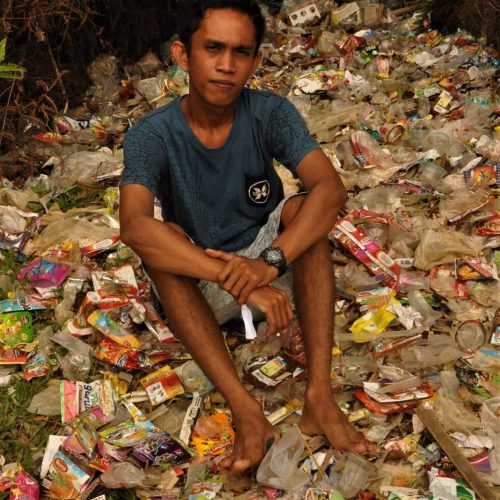 The Porli village and Batu Kapal are right at the outskirts of the Gunung Leuser National Park in Sumatra, which contains one of the most important and biodiverse rainforests on earth. However, the beauty and health of the rainforest and its communities are under imminent threat from the mismanagement of plastic waste. Indonesia is the second-largest contributor of the plastic waste in the oceans, only behind China.
Services such as rubbish collection and landfill either do not exist in the remote communities in Sumatra, or can cause many issues of their own, such as overspill into the environment or the contamination of ground water. "As we do not have a waste management system in place, trash has ended up all over nature for the past decades – lining the streets, clogging lakes and rivers, ending up in animal stomachs as it is mistaken for food" (Santa).
Many NGOs have begun addressing these issues with some innovative solutions, introducing a trash bank where the locals can earn money for taking their waste into the 'bank', or supporting local groups who make new products from plastic waste, such as Eco Bricks for buildings or other items such as mats, handbags, and even hats.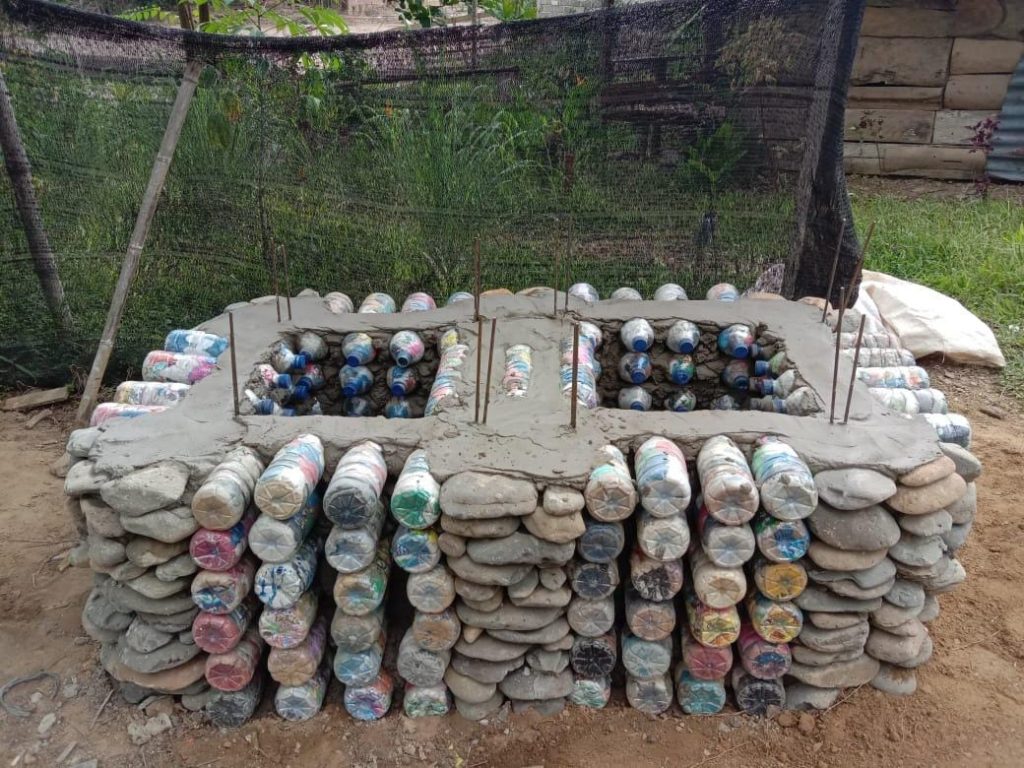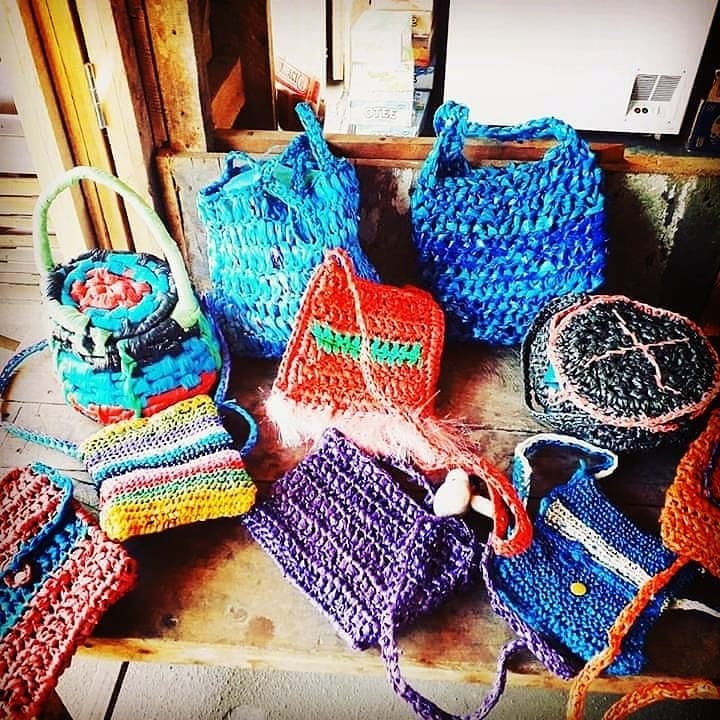 So with all these programs, why is there still so much plastic litter on the ground, in the villages, the rivers and in the fields? The answer seems fairly simple: without bins or collection services in the villages, many people struggle to put their litter in the right place. Without bins, the communities are not able to tackle Sumatra's plastic waste problem.
Innovative Solution - Tyre-bins
Will collecting trash inside other trash reduce Sumatra's plastic waste crisis?
Our Sumatran-based organisation is working to find out.
How can an organisation address this issue in a fairly remote location with limited funding? It turns out that the waste itself holds the solution, and a small amount of funding can go a long way to addressing the gaps in the waste streams. While contemplating this issue, the Australian and Indonesian supporters of CareSumatra found something cheap, widely available and easy to turn into bins – old car tyres.
Billions of used tyres end up polluting our environment and our oceans every year. Disposing of them at landfills is a bad idea, as they can easily catch fire, releasing harmful toxins into the atmosphere.
However, local community groups in Indonesia have found very creative ways of re-using car tyres as bins, which serves the environment and helps to create new jobs. The newly created group Masyarakat Peduli Linkungan from the village of Gotong Royong on the border of the national forest are the first to receive these bins, twelve in total, costing only 120.000 Indonesian Rupiah or $12 AUD each.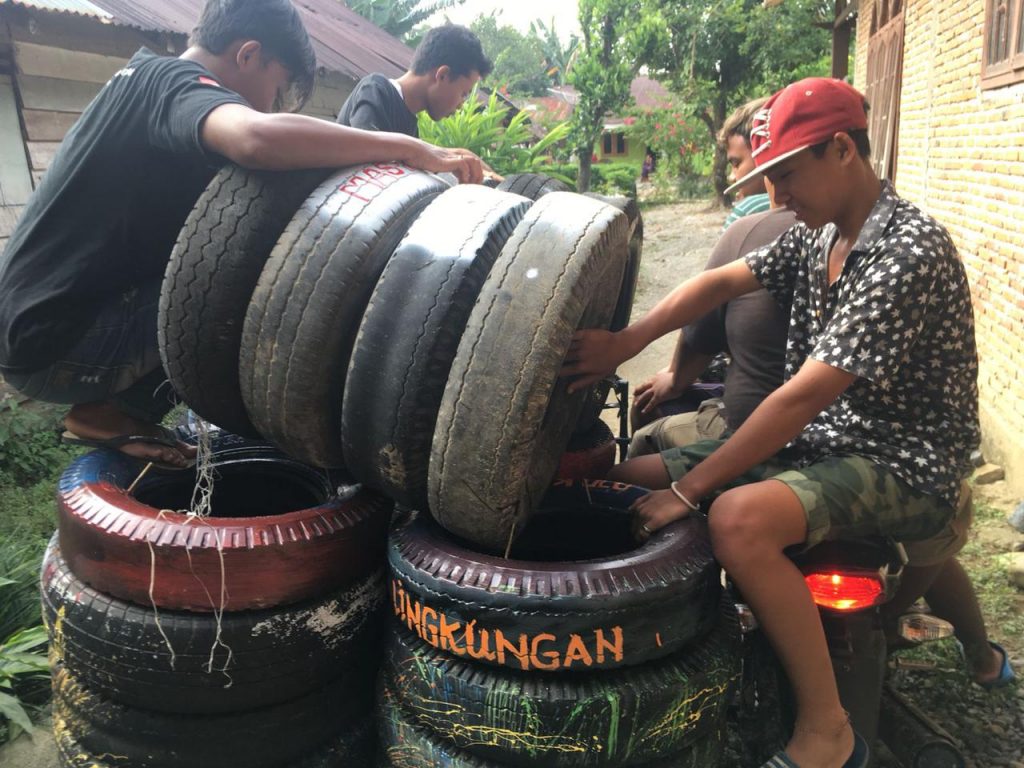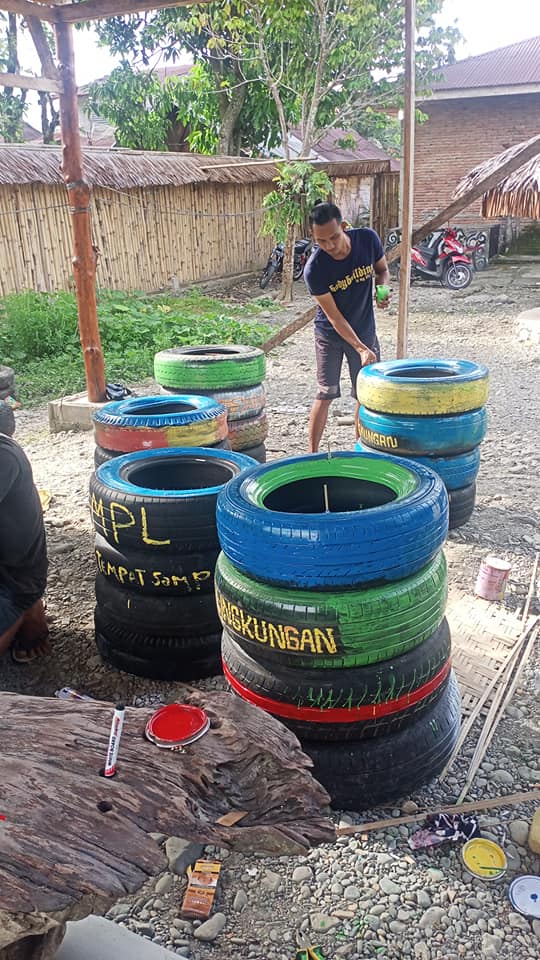 While this group is interested in and passionate about clearing litter from their village, for the program to be a success the bins have to be cleared regularly and waste needs to be properly disposed of rather than being burned, which is a common practice in Indonesia that leads to micro plastics and air pollution. 
Working together with other existing local projects – such as the trash bank, local composting, and upcycling – CareSumatra has allocated funds to employ a local person to clear the bins weekly and recycle the contents at a cost of 1million Indonesian Rupiah or $100AUD per month – potentially, a very affordable solution to the litter crisis.
And this is only the beginning, as CareSumatra is also funding a second tyre-bin project with Sumatra Dream Class in the village of Porli led by Santa and a few other members of the indigenous and local communities. Santa wants to build 15 tyre bins as a starting point.
Will this work? Will local people see the value in disposing of their litter in bins rather than burning them? Can we reduce the harm on this precious ecosystem? Only time will tell, but CareSumatra and its supporters are very keen to find out and work with the local people to tackle this issue.
If you'd like to support this wonderful innovative waste collection program, please donate by clicking the link below.
Let's join forces to fight Sumatra's plastic waste crisis!
Do you have feedback or ideas of your own that you'd like to share? Do you have a strategy you would like to fund, or would you simply like to volunteer or donate to this cause?
Read more about our projects and get in touch directly at [email protected].